A message to the aliens, part 17/23 (DNA chemistry)

Earlier articles: Introduction Common features Page 1 (numerals) Page 2 (arithmetic) Page 3 (exponents) Page 4 (algebra) Page 5 (geometry) Page 6 (chemistry) Page 7 (mass) Page 8 (time and space) Page 9 (physical units) Page 10 (temperature) Page 11 (solar system) Page 12 (Earth-Moon system) Page 13 (days, months, and years) Page 14 (terrain) Page 15 (human anatomy) Page 16 (vital statistics)
This is page 17 of the Cosmic Call message. An explanation follows.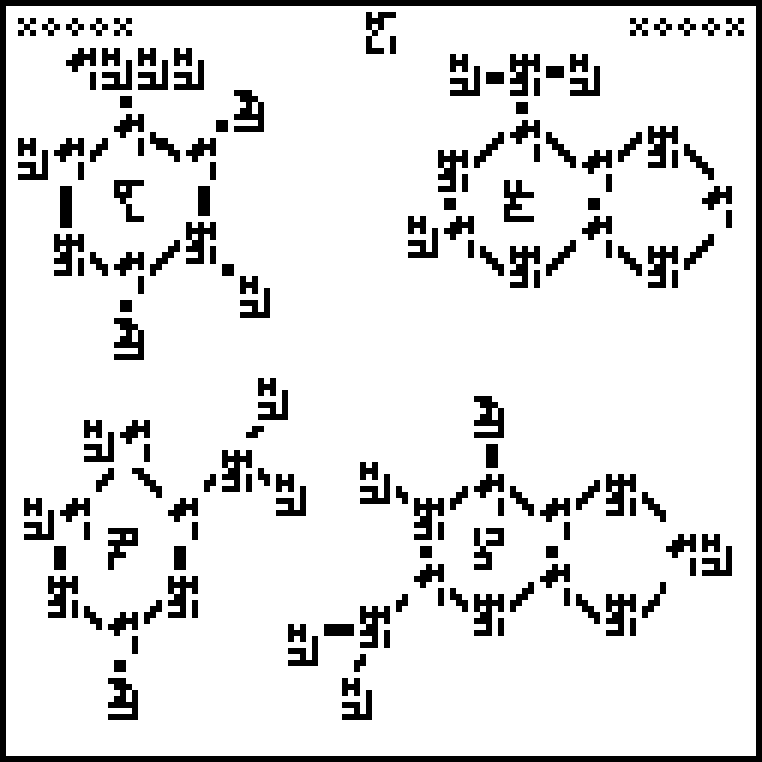 The 10 digits are:
This page depicts the chemical structures of the four nucleobases that make up the information-carrying part of the DNA molecule. Clockwise from top left, they are thymine

, adenine

, guanine

, and cytosine

.
The deoxyribose and phosphate components of the nucleotides, shown at right, are not depicted. These form the spiral backbone of the DNA and are crucial to its structure. Will the recipients understand why the nucleobases are important enough for us to have mentioned them?

The next article will discuss page 18, shown at right. (Click to enlarge.) Try to figure it out before then.


[Other articles in category /aliens/dd] permanent link