A message to the aliens, part 10/23 (temperature)

Earlier articles: Introduction Common features Page 1 (numerals) Page 2 (arithmetic) Page 3 (exponents) Page 4 (algebra) Page 5 (geometry) Page 6 (chemistry) Page 7 (mass) Page 8 (time and space) Page 9 (physical units)
This is page 10 of the Cosmic Call message. An explanation follows.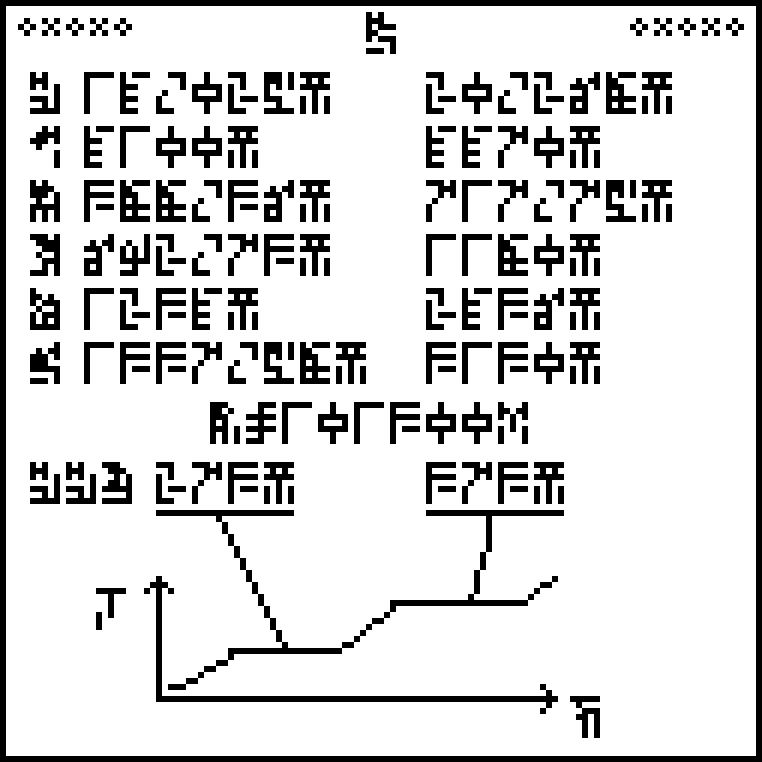 The 10 digits are:
The top half of this page is a table of melting points (on the left) and boiling points (on the right) for various substances: hydrogen

, carbon

, sulfur

, zinc

, silver

, and gold

. The temperatures are given in kelvins

.
The boiling points depend on pressure, so there is a notation at the bottom of the list that the pressure

should be 101300 pascals

. This is one standard atmosphere, so it may tell the aliens a little more about our planet.
To help calibrate the kelvins, the bottom of the page is a chart of the temperature increase of water



, showing how the temperature stops increasing at the melting point (273K) and the boiling point (373K). This introduces the glyph for temperature

, which will recur later.
There are two regrettable things about this chart. One is that the horizontal axis is labeled "time"

. Why is the temperature of the water increasing with time? It should be energy.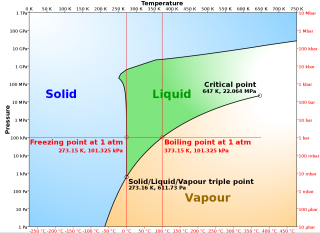 But a more serious complaint, I think, it that this is the wrong chart. It depends crucially on the (Earth-)standard atmospheric pressure, with which the recipients may not be familiar. And the kelvin is not defined in terms of standard pressure anyway. It is defined in terms of the triple point of water, the unique, universal temperature and pressure at which all three states of water can coexist. Why not a temperature and pressure chart with the triple point labeled? This is something one might more reasonably expect the aliens to have studied.


The next article will discuss page 11, shown at right. (Click to enlarge.) Try to figure it out before then.


[Other articles in category /aliens/dd] permanent link