A message to the aliens, part 15/23 (human anatomy)

Earlier articles: Introduction Common features Page 1 (numerals) Page 2 (arithmetic) Page 3 (exponents) Page 4 (algebra) Page 5 (geometry) Page 6 (chemistry) Page 7 (mass) Page 8 (time and space) Page 9 (physical units) Page 10 (temperature) Page 11 (solar system) Page 12 (Earth-Moon system) Page 13 (days, months, and years) Page 14 (terrain)
This is page 15 of the Cosmic Call message. An explanation follows.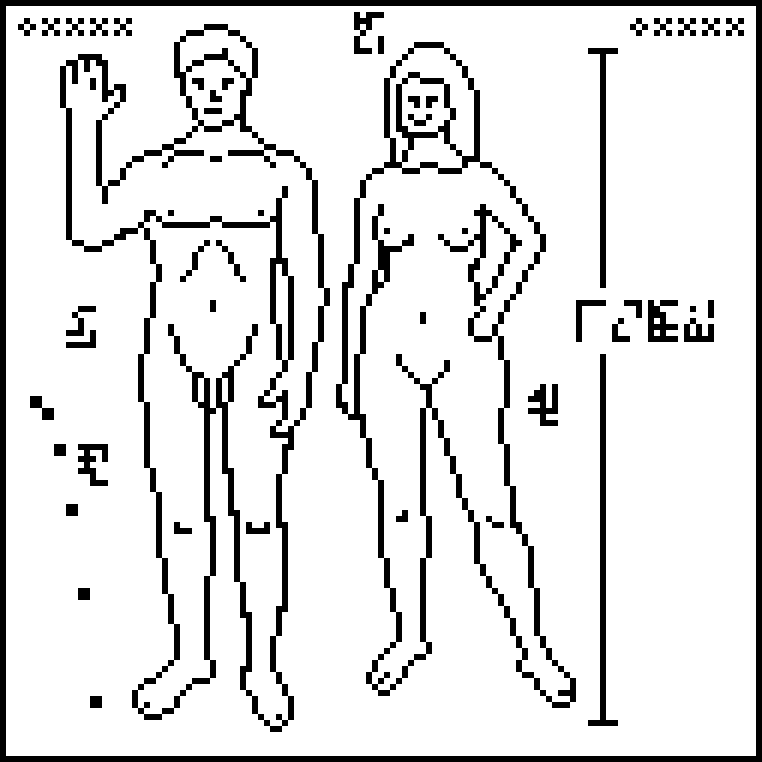 The 10 digits are:
This page starts a new section of the document, each page headed with the glyph for "biology"

. The illustration is adapted from the Pioneer plaque; the relevant portion is shown below.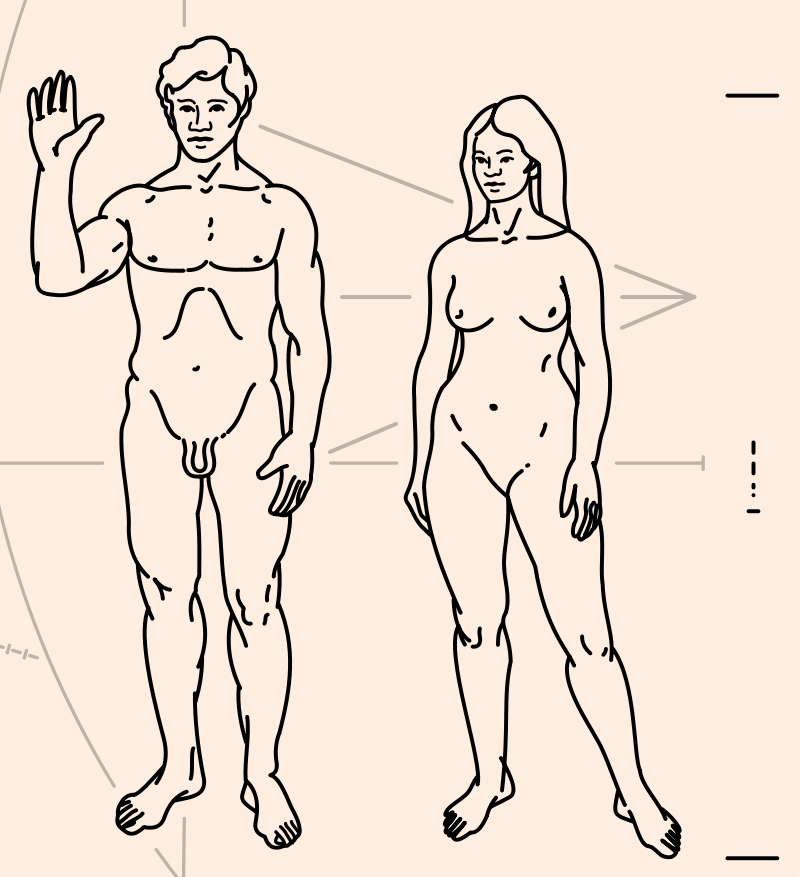 Copies of the plaque were placed on the 1972 and 1973 Pioneer spacecraft. The Pioneer image has been widely discussed and criticized; see the Wikipedia article for some of the history here. The illustration suffers considerably from its translation to a low-resolution bitmap. The original picture omits the woman's vulva; the senders have not seen fit to correct this bit of prudery.
The man and the woman are labeled with the glyphs

and

, respectively. The glyph for "people"

, which identified the stick figures on the previous page, is inexplicably omitted here.

The ruler on the right somewhat puzzlingly goes from a bit above the man's toe to a bit below the top of the woman's head; it does not measure either of the two figures. It is labeled 1.8 meters, a typical height for men. The original Pioneer plaque spanned the woman exactly and gave her height as 168 cm, which is conveniently an integer multiple of the basic measuring unit (21 cm) defined on the plaque.
To prevent the recipients from getting confused about which end of the body is the top, a parabolic figure (shown here at left), annotated with the glyph for "acceleration", shows the direction of gravitational acceleration as on the previous page.


The next article will discuss page 16, shown at right. (Click to enlarge.) Try to figure it out before then.


[Other articles in category /aliens/dd] permanent link