A message to the aliens, part 11/23 (solar system)

Earlier articles: Introduction Common features Page 1 (numerals) Page 2 (arithmetic) Page 3 (exponents) Page 4 (algebra) Page 5 (geometry) Page 6 (chemistry) Page 7 (mass) Page 8 (time and space) Page 9 (physical units) Page 10 (temperature)
This is page 11 of the Cosmic Call message. An explanation follows.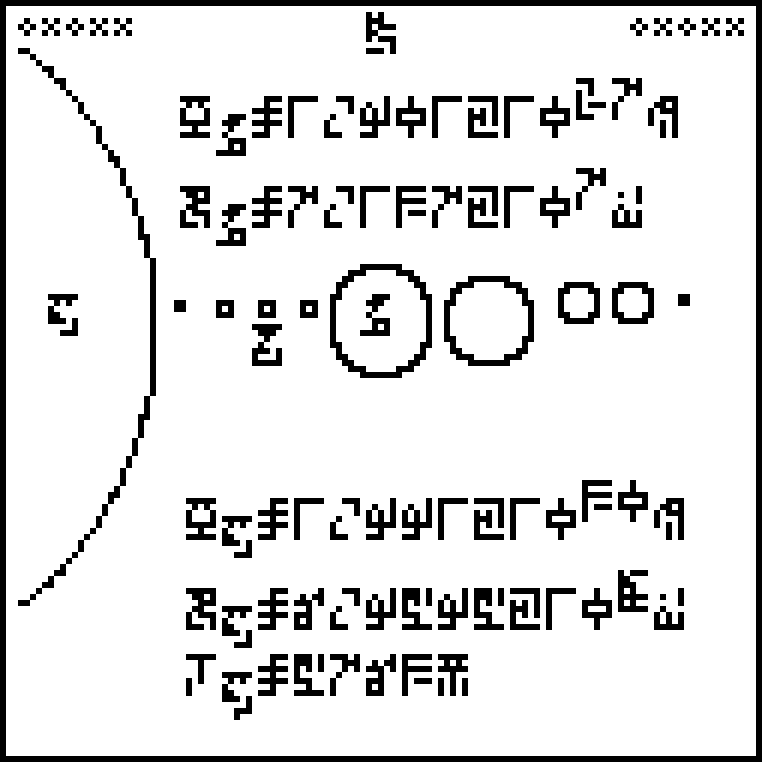 The 10 digits are:
Page 11, headed with the glyph for "physics"

is evidently a chart of the solar system, with the Sun

at left. The Earth

is also labeled, as is Jupiter
, the planet most likely to be visible to the recipients. The "Jupiter" glyph does not appear again. Pluto is included, as it was still considered a planet in 1999. (Pluto's status as only one of many similar trans-Neptunian objects was not well appreciated in 1999 when the message was composed, the second TNO having only been discovered in 1992.) To the extent permitted by the low resolution of the image, The diameters of the planets and the Sun are to scale, but not their relative positions; the page is much too small for that. Saturn's rings are not shown, as they are in the Pioneer plaque; by this time it was appreciated that ring systems may be common around large planets.
The masses

and radii

of Jupiter and the Sun are given, Jupiter above the illustration and the Sun below. The (external) temperature

of the Sun is also given, 5763 kelvins. This should be visible to the aliens because the Sun is a blackbody emitter and the spectrum of blackbody radiation is a clear indicator of its temperature. This data should allow the aliens to locate us, should they be so inclined: they know which way the message came from, and can look for a star with the right size and temperature in that direction. When they get closer, Jupiter and the sizes of the planets will provide a confirmation that they are in the right place. Later pages explain that we live on the Earth, so the aliens will know where to point their fusion cannon in order to obliterate our planet.

The next article will discuss page 12, shown at right. (Click to enlarge.) Try to figure it out before then.


[Other articles in category /aliens/dd] permanent link