Yesterday I presented as a counterexample the topology induced by the following metric: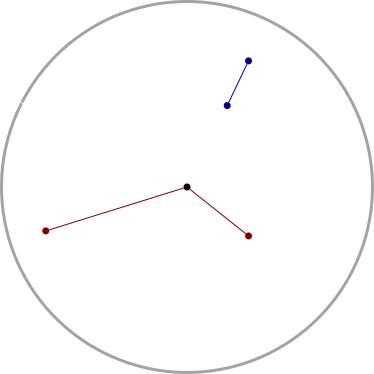 I asked:
It seems like this example could be useful in other circumstances too. Does it have a name?
Several Gentle Readers have written in to tell me that that this metric is variously known as the British Rail metric, French Metro metric, or SNCF metric. (SNCF = Société nationale des chemins de fer français, the French national railway company). In all cases the conceit is the same (up to isomorphism): to travel to a destination on another railway line one must change trains in London / Paris, where all the lines converge.
Wikipedia claims this is called the post office metric, again I suppose because all the mail comes to the central post office for sorting. I have not seen it called the FedEx metric, but it could have been, with the center of the disc in Memphis.
[ Addendum 20180621: Thanks for Brent Yorgey for correcting my claim that the FedEx super hub is in Nashville. It is in Memphis ]
[Other articles in category /math] permanent link