Worst waterfall in the U.S. and Doug Burgum pays me $19

North Dakota is not a place I think about much, but it crossed paths with me twice in July.
Waterfalls
Last month I suddenly developed a burning need to know: if we were to rank the U.S. states by height of highest waterfall, which state would rank last? Thanks to the Wonders of the Internet I was able to satisfy this craving in short order. Delaware is the ⸢winner⸣, being both very small and very flat.
In looking into this, I also encountered the highest waterfall in North Dakota, Mineral Springs Waterfall. (North Dakota is also noted for being rather flat. It is in the Great Plains region of North America.)
The official North Dakota tourism web site (did you know there was one? I didn't.) has a page titled "North Dakota has a Waterfall?" which claims an 8-foot (2.4m) drop.
The thing I want you to know, though, is that they include this ridiculous picture on the web site: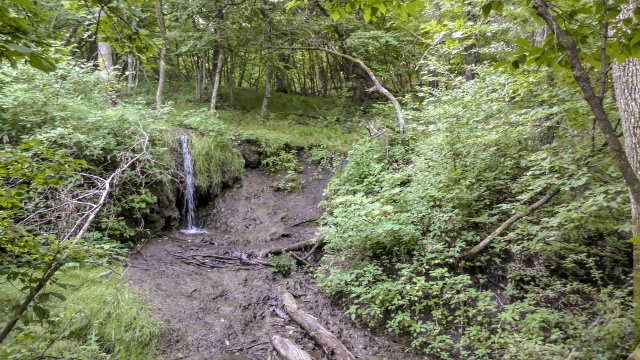 Wow, pathetic. As Lorrie said, "it looks like a pipe burst."
The World Waterfall Database claims that the drop is 15 feet (5m). The WWD is the source cited in the official USGS waterfall data although the USGS does not repeat WWD's height claim.
I am not sure I trust the WWD. It seems to have been abandoned. I wrote to all their advertised contact addresses to try to get them to add Wadhams Falls, but received no response.
Doug Burgum
Doug Burgum is some rich asshole, also the current governor of North Dakota, who wants to be the Republican candidate for president in the upcoming election.
To qualify for the TV debate next month, one of the bars he had to clear was to have received donations from 40,000 individuals, including at least 200 from each of 20 states. But how to get people to donate? Who outside of North Dakota has heard of Doug Burgum? Certainly I had not.
If you're a rich asshole, the solution is obvious: just buy them. For a while (and possibly still) Burgum was promising new donors to his campaign a $20 debit card in return for a donation of any size.
Upside: Get lots of free media coverage, some from channels like NPR that would normally ignore you. Fifty thousand new people on your mailing list. Get onstage in the debate. And it costs only a million dollars. Money well spent!
Downside: Reimbursing people for campaign donations is illegal, normally because it would allow a single donor to evade the limits on individual political contributions. Which is what this is, although not for that reason; here it is the campaign itself reimbursing the contributions.
Anyway, I was happy to take Doug Burgum's money. (A middle-class lesson I tried to instill into the kids: when someone offers you free money, say yes.) I donated $1, received the promised gift card timely, and immediately transferred the money to my transit card.
I was not able to think of a convincing argument against this:
But it's illegal For him. Not for me.

But you're signing up to receive political spam I unsubscribed right away, and it's not like I don't get plenty of political spam already.

But he'll sell your address to his asshole friends His list may not be a hot seller. His asshole friends will know they're buying a list of people who are willing donate $1 in return for a $20 debit card; it's not clear why anyone would want this. If someone does buy it, and they want to make me the same offer, I will be happy to accept. I'll take free money from almost anyone, the more loathsome the better.

But you might help this asshole get elected If Doug Burgum were to beat Trump to the nomination, I would shout from the rooftops that I was proud to be part of his victory.

If Doug Burgum is even the tiniest speedbump on Trump's path to the nomination, it will be negative $19 well-spent.

But it might give him better chances in the election of 2028 I have no reason to think that Burgum would be any worse than any other rich asshole the Republicans might nominate in 2028.
Taking Doug Burgum's $19 was time well-spent, I would do it again.
Addendum: North Dakota tourism
Out of curiosity about the attractions of North Dakota tourism, I spent a little while browsing the North Dakota tourism web site, wondering if the rest of it was as pitiful and apologetic as the waterfall page.
No! They did a great job of selling me on North Dakota tourism. The top three items on the "Things to Do" page are plausible and attractive:
"Nature and Outdoors Activities", with an excellent picture of a magnificent national park and another of a bison. 100%, no notes.

Recreation. The featured picture is a beaming fisherman holding up an enormous fish; other pictures boast "hiking" and "hunting".

History. The featured picture is Lakota Sioux in feathered war bonnets.
Good stuff. I had hoped to visit anyway, and the web site has gotten me excited to do it.
[Other articles in category /geo] permanent link