My favorite luxurious office equipment is low-tech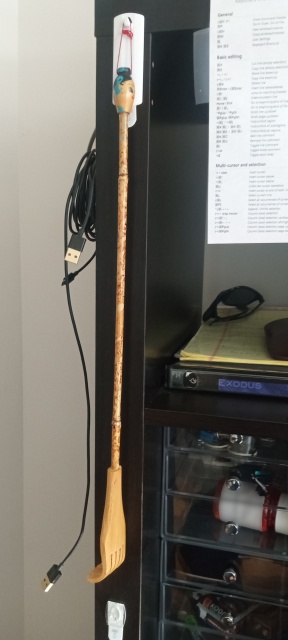 This is about the stuff I have in my office that I could live without but wouldn't want to. Not stuff like "a good chair" because a good chair is not optional. And not stuff like "paper". This is the stuff that you might not have thought about already.
The back scratcher at right cost me about $1 and brings me joy every time I use it. My back is itchy, it is distracting me from work, aha, I just grab the back scratcher off the hook and the problem is solved in ten seconds. Not only is it a sensual pleasure, but also I get the satisfaction of a job done efficiently and effectively.
Computer programmers often need to be reminded that the cheap, simple, low-tech solution is often the best one. Perfection is achieved not when there is nothing more to add, but when there is nothing more to take away. I see this flawlessly minimal example of technology every time I walk into my office and it reminds me of the qualities I try to put into my software.
These back scratchers are available everywhere. If your town has a dollar store or an Asian grocery, take a look. I think the price has gone up to $2.
When I was traveling a lot for ZipRecruiter, I needed a laptop stand. (Using a laptop without a stand is bad for your neck.) I asked my co-workers for recommendations and a couple of them said that the Roost was nice. It did seem nice, but it cost $75. So I did Google search for "laptop stand like Roost but cheap" and this is what I found.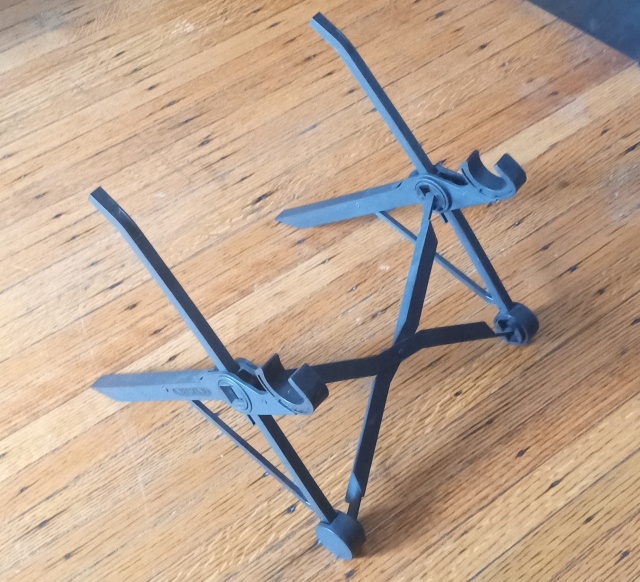 This is a Nexstand. The one in this picture is about ten years old. It has performed flawlessly. It has never failed. There has never been any moment when I said "ugh, this damn thing again, always causing problems."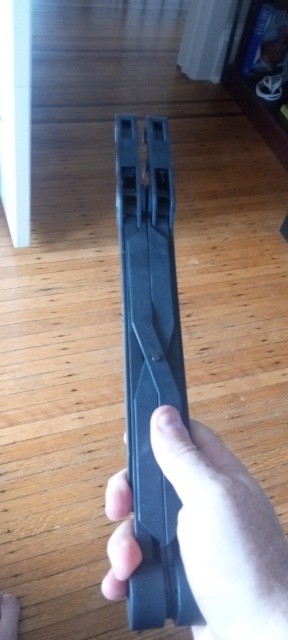 It folds up and deploys in seconds.
It weighs eight ounces. That's 225 grams.
It takes up the smallest possible amount of space in my luggage. Look at the picture at left. LOOK AT IT I SAY.
The laptop height is easily adjustable.
The Nexstand currently sells for $25–35. (The Roost is up to $90.)
This is another "there is nothing left to take away" item. It's perfect the way it is. This picture shows it quietly doing its job with no fuss, as it does every day.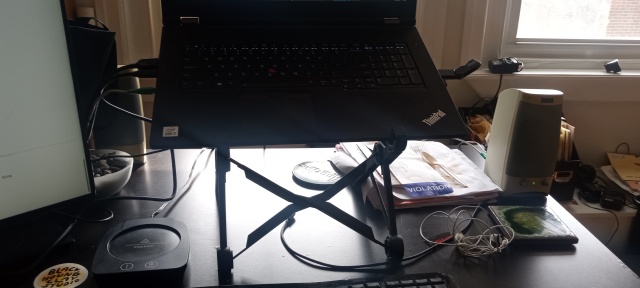 This last item has changed my life. Not drastically, but significantly, and for the better.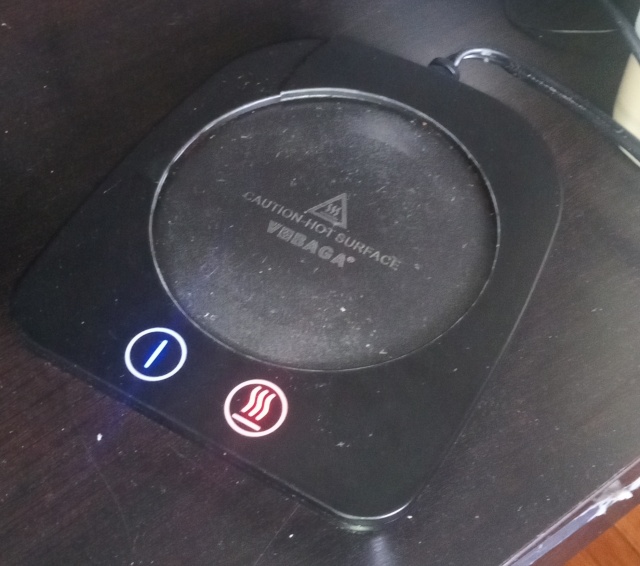 This is a Vobaga electric mug warmer. You put your mug on it, and the coffee or tea or whatever else is in the mug stays hot, but not too hot to drink, indefinitely.
The button on the left turns the power on and off. The button on the right adjusts the temperature: blue for warm, purple for warmer, and red for hot. (The range is 104–149°F (40–65°C). I like red.) After you turn off the power, the temperature light blinks for a while to remind you not to put your hand on it.
That is all it does, it is not programmable, it is not ⸢smart⸣, it does not require configuration, it does not talk to the Internet, it does not make any sounds, it does not spy on me, it does not have a timer, it does do one thing and it does it well, and I never have to drink lukewarm coffee.
The power cord is the only flaw, because it plugs into wall power and someone might trip on it and spill your coffee, but it is a necessary flaw. You can buy a mug warmer that uses USB power. When I first looked into mug warmers I was puzzled. Surely, I thought, a USB connection does not deliver enough power to keep a mug of coffee warm? At the time, this was correct. USB 2 can deliver 5V at up to 0.5A, a total of 2.5 watts of power. That's only 0.59 calorie per second. Ridiculous. The Vobaga can deliver 20 watts. That is enough.
Vobaga makes this in several colors (not that anything is wrong with black) and it costs around $25–30. The hot round thing is 4 inches in diameter (10 cm) and neatly fits all my mugs, even the big ones. It does not want to go in the dishwasher but easily wipes clean with a damp cloth. I once spilled the coffee all over it but it worked just fine once it dried out because it is low tech.
It's just another one of those things that works, day in and day out, without my having to think about it, unless I feel like gloating about how happy it makes me.
[ Addendum: I have no relationship with any of these manufacturers except as a satisfied customer of their awesome products. Do I really need to say that? ]
[Other articles in category /tech] permanent link