Gompertz' law for wooden utility poles

Gompertz' law says that the human death rate increases exponentially with age. That is, if your chance of dying during this year is !!x!!, then your chance of dying during next year is !!cx!! for some constant !!c>1!!. The death rate doubles every 8 years, so the constant !!c!! is empirically around !!2^{1/8} \approx 1.09!!. This is of course mathematically incoherent, since it predicts that sufficiently old people will have a mortality rate greater than 100%. But a number of things are both true and mathematically incoherent, and this is one of them. (Zipf's law is another.)
The Gravity and Levity blog has a superb article about this from 2009 that reasons backwards from Gompertz' law to rule out certain theories of mortality, such as the theory that death is due to the random whims of a fickle god. (If death were entirely random, and if you had a 50% chance of making it to age 70, then you would have a 25% chance of living to 140, and a 12.5% chance of living to 210, which we know is not the case.)
Gravity and Levity says:
Surprisingly enough, the Gompertz law holds across a large number of countries, time periods, and even different species.
To this list I will add wooden utility poles.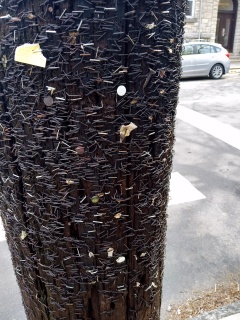 A couple of weeks ago Toph asked me why there were so many old rusty staples embedded in the utility poles near our house, and this is easy to explain: people staple up their yard sale posters and lost-cat flyers, and then the posters and flyers go away and leave behind the staples. (I once went out with a pliers and extracted a few dozen staples from one pole; it was very satisfying but ultimately ineffective.) If new flyer is stapled up each week, that is 52 staples per year, and 1040 in twenty years. If we agree that 20 years is the absolute minimum plausible lifetime of a pole, we should not be surprised if typical poles have hundreds or thousands of staples each.
But this morning I got to wondering what is the expected lifetime of a wooden utility pole? I guessed it was probably in the range of 40 to 70 years. And happily, because of the Wonders of the Internet, I could look it up right then and there, on the way to the trolley stop, and spend my commute time reading about it.
It was not hard to find an authoritative sounding and widely-cited 2012 study by electric utility consultants Quanta Technology.
Summary: Most poles die because of fungal rot, so pole lifetime varies widely depending on the local climate. An unmaintained pole will last 50–60 years in a cold or dry climate and 30-40 years in a hot wet climate. Well-maintained poles will last around twice as long.
Anyway, Gompertz' law holds for wooden utility poles also. According to the study:
Failure and breakdown rates for wood poles are thought to increase exponentially with deterioration and advancing time in service.
The Quanta study presents this chart, taken from the (then forthcoming) 2012 book Aging Power Delivery Infrastructures: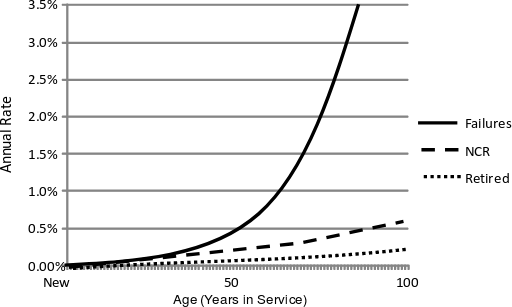 The solid line is the pole failure rate for a particular unnamed utility company in a median climate. The failure rate with increasing age clearly increases exponentially, as Gompertz' law dictates, doubling every 12½ years or so: Around 1 in 200 poles fails at age 50, around 1 in 100 of the remaining poles fails at age 62.5, and around 1 in 50 of the remaining poles fails at age 75.
(The dashed and dotted lines represent poles that are removed from service for other reasons.)
From Gompertz' law itself and a minimum of data, we can extrapolate the maximum human lifespan. The death rate for 65-year-old women is around 1%, and since it doubles every 8 years or so, we find that 50% of women are dead by age 88, and all but the most outlying outliers are dead by age 120. And indeed, the human longevity record is currently attributed to Jeanne Calment, who died in 1997 at the age of 122½.
Similarly we can extrapolate the maximum service time for a wooden utility pole. Half of them make it to 90 years, but if you have a large installed base of 110-year-old poles you will be replacing about one-seventh of them every year and it might make more sense to rip them all out at once and start over. At a rate of one yard sale per week, a 110-year-old pole will have accumulated 5,720 staples.
The Quanta study does not address deterioration of utility poles due to the accumulation of rusty staples.
[ Addendum 20220521: More about utility poles and their maintenance ]
[Other articles in category /tech] permanent link