How big is a five-gallon jug?
Office water coolers in the United States commonly take five-gallon jugs of water. You are probably familiar with these jugs, but here is a picture of a jug, to refresh your memory. A random graduate student has been provided for scale: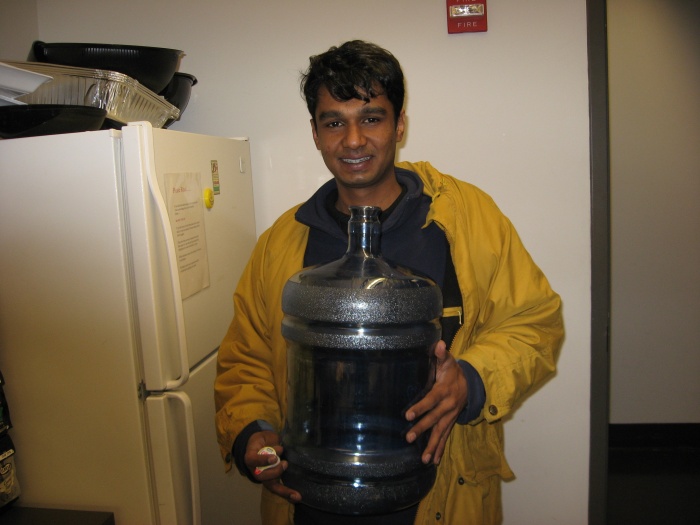 Here's today's riddle: Can you estimate the volume of the jug in cubic feet? "Estimate" means by eyeballing it, not by calculating, measuring, consulting reference works, etc. But feel free to look at an actual jug if you have one handy.

Once you've settled on your estimate, compare it with the correct answer, below.
---
Answer:

It is about 2/3 of a cubic foot.

One gallon contains about 231 cubic inches. Five gallons contain about 1155 cubic inches.

One cubic foot contains 12×12×12 = 1728 cubic inches.

Hard to believe, isn't it? ("Strange but true.") I took one of these jugs around my office last year, asking everyone to guess how big it was; nobody came close. People typically guessed that it was about three times as big as it actually is.

This puzzle totally does not work anywhere except in the United States. The corresponding puzzle for the rest of the world is "Here is a twenty-liter jug. Can you guess the volume of the jug in liters?" I suppose this is an argument in favor of the metric system.




[Other articles in category /tech] permanent link