I'm a fan of geographic oddities, and a few years back when I took a road trip to circumnavigate Chesapeake Bay, I planned its official start in New Castle, DE, which is noted for being the center of the only circular state boundary in the U.S.:
The red blob is New Castle. Supposedly an early treaty allotted to Delaware all points west of the river that were within twelve miles of the State House in New Castle.
I drove to New Castle, made a short visit to the State House, and then began my road trip in earnest. This is a little bit silly, because the border is completely invisible, whether you are up close or twelve miles away, and the State House is just another building, and would be exactly the same even if the border were actually a semicubic parabola with its focus at the second-tallest building in Wilmington.
Whatever, I like going places, so I went to New Castle to check it out. Perhaps it was silly, but I enjoyed going out of my way to visit a point of purely geometric significance. The continuing popularity of Four Corners as a tourist destination shows that I'm not the only one. I don't have any plans to visit Four Corners, because it's far away, kinda in the middle of nowhere, and seems like rather a tourist trap. (Not that I begrudge the Navajo Nation whatever they can get from it.)
Four Corners is famously the only point in the U.S. where four state borders coincide. But a couple of weeks ago as I was falling asleep, I had the thought that there are many triple-border points, and it might be fun to visit some. In particular, I live in southeastern Pennsylvania, so the Pennsylvania-New Jersey-Delaware triple point must be somewhere nearby. I sat up and got my phone so I could look at the map, and felt foolish: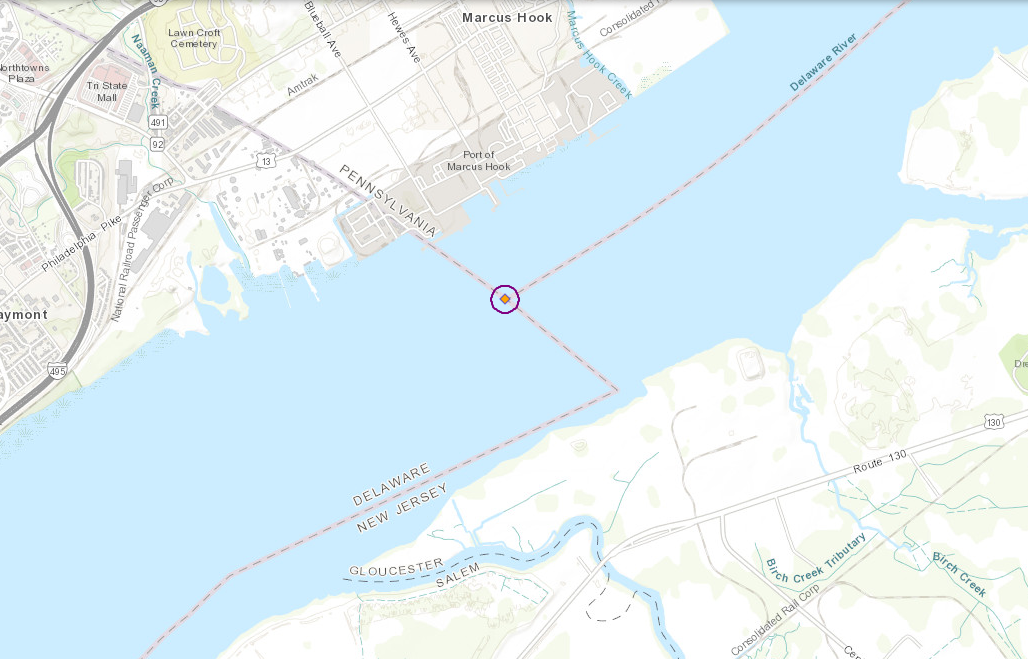 As you can see, the triple point is in the middle of the Delaware River, as of course it must be; the entire border between Pennsylvania and New Jersey, all the hundreds of miles from its northernmost point (near Port Jervis) to its southernmost (shown above), runs right down the middle of the Delaware.
I briefly considered making a trip to get as close as possible, and photographing the point from land. That would not be too inconvenient. Nearby Marcus Hook is served by commuter rail. But Marcus Hook is not very attractive as a destination. Having been to Marcus Hook, it is hard for me to work up much enthusiasm for a return visit.
But I may look into this further. I usually like going places and being places, and I like being surprised when I get there, so visting arbitrarily-chosen places has often worked out well for me. I see that the Pennsylvania-Delaware-Maryland triple border is near White Clay Creek State Park, outside of Newark, DE. That sounds nice, so perhaps I will stop by and take a look, and see if there really is white clay in the creek.
Who knows, I may even go back to Marcus Hook one day.
[ Addendum 20190114: More about nearby tripoints and related matters. ]
[ Addendum 20201209: I visited the tripoint marker in White Clay Creek State Park. ]
[ Addendum 20220422: More about how visting arbitrarily-chosen places has often worked out well for me. I have a superstitious belief in the power of Fate to bring me to where I am supposed to be, but rationally I understand that the true explanation is that random walks are likely to bring me to an interesting destination simply because I am easily interested and so find most destinations interesting. ]
[Other articles in category /misc] permanent link