Smallest state capitals
I think it was James Kushner who first suggested that I consider the question of which U.S. state capital had the smallest population in relation to its state's largest city. For example, New York City is the largest city in the United States, but the state capital of New York State is Albany, with a population of about 850,000. The population of New York City exceeds that of Albany by a factor of around 20.
At the other end of the scale, of course, we have state capitals like Boston, Denver, Atlanta, and Honolulu that are their state's largest cities. For these states, the population quotient is 1, its theoretical minimum.
Well, James, it only took me thirty years, but here it is.
I tried to resolve the question manually a few weeks ago, by browsing Wikipedia for the populations of likely candidates. Today I took a more methodical approach, downloading the U.S. Census Bureau's July 2006 estimates for populations of metropolitan areas, and writing a couple of little programs to grovel the data.
I had to augment the Census Bureau's data with two items: Annapolis, MD, and Montpelier, VT are not large enough to be included in the metropolitan area data file. I used U.S. Census 2006 estimates for these cities as well.
I discarded one conurbation: the Census Bureau includes a "Metropolitan Division" in New Hampshire that consists of Rockingham and Strafford counties; this was the most populous identified area in New Hampshire. It didn't seem entirely germane to the question, so I took it out. On the other hand, including it doesn't change the results much: its population is 416,000, compared with Manchester-Nashua's 402,000.
The results follow.
State
Capital and
its Population
Largest metropolitan area
and its population
Quotient
MD
Annapolis
36,408
Baltimore-Towson
2,658,405
73
.02
IL
Springfield
206,112
Chicago-Naperville-Joliet
9,505,748
46
.12
NV
Carson City
55,289
Las Vegas-Paradise
1,777,539
32
.15
VT
Montpelier
7,954
Burlington-South Burlington
206,007
25
.90
NY
Albany
850,957
New York-Northern New Jersey-Long Island
18,818,536
22
.11
MO
Jefferson City
144,958
St. Louis
2,796,368
19
.29
KY
Frankfort
69,068
Louisville-Jefferson County
1,222,216
17
.70
FL
Tallahassee
336,502
Miami-Fort Lauderdale-Miami Beach
5,463,857
16
.24
WA
Olympia
234,670
Seattle-Tacoma-Bellevue
3,263,497
13
.91
AK
Juneau
30,737
Anchorage
359,180
11
.69
PA
Harrisburg
525,380
Philadelphia-Camden-Wilmington
5,826,742
11
.09
SD
Pierre
19,761
Sioux Falls
212,911
10
.77
MI
Lansing
454,044
Detroit-Warren-Livonia
4,468,966
9
.84
NJ
Trenton
367,605
Edison
2,308,777
6
.28
CA
Sacramento
2,067,117
Los Angeles-Long Beach-Santa Ana
12,950,129
6
.26
NM
Santa Fe
142,407
Albuquerque
816,811
5
.74
OR
Salem
384,600
Portland-Vancouver-Beaverton
2,137,565
5
.56
DE
Dover
147,601
Wilmington
691,688
4
.69
VA
Richmond
1,194,008
Washington-Arlington-Alexandria
5,290,400
4
.43
ME
Augusta
121,068
Portland-South Portland-Biddeford
513,667
4
.24
TX
Austin
1,513,565
Dallas-Fort Worth-Arlington
6,003,967
3
.97
AL
Montgomery
361,748
Birmingham-Hoover
1,100,019
3
.04
NE
Lincoln
283,970
Omaha-Council Bluffs
822,549
2
.90
WI
Madison
543,022
Milwaukee-Waukesha-West Allis
1,509,981
2
.78
NH
Concord
148,085
Manchester-Nashua
402,789
2
.72
KS
Topeka
228,894
Wichita
592,126
2
.59
MT
Helena
70,558
Billings
148,116
2
.10
ND
Bismarck
101,138
Fargo
187,001
1
.85
NC
Raleigh
994,551
Charlotte-Gastonia-Concord
1,583,016
1
.59
LA
Baton Rouge
766,514
New Orleans-Metairie-Kenner
1,024,678
1
.34
OH
Columbus
1,725,570
Cleveland-Elyria-Mentor
2,114,155
1
.23
AR
Little Rock
652,834
Little Rock-North Little Rock
652,834
1
.00
AZ
Phoenix
4,039,182
Phoenix-Mesa-Scottsdale
4,039,182
1
.00
CO
Denver
2,408,750
Denver-Aurora
2,408,750
1
.00
CT
Hartford
1,188,841
Hartford-West Hartford-East Hartford
1,188,841
1
.00
GA
Atlanta
5,138,223
Atlanta-Sandy Springs-Marietta
5,138,223
1
.00
HI
Honolulu
909,863
Honolulu
909,863
1
.00
IA
Des Moines
534,230
Des Moines-West Des Moines
534,230
1
.00
ID
Boise
567,640
Boise City-Nampa
567,640
1
.00
IN
Indianapolis
1,666,032
Indianapolis-Carmel
1,666,032
1
.00
MA
Boston
4,455,217
Boston-Cambridge-Quincy
4,455,217
1
.00
MN
St. Paul
3,175,041
Minneapolis-St. Paul-Bloomington
3,175,041
1
.00
MS
Jackson
529,456
Jackson
529,456
1
.00
OK
Oklahoma City
1,172,339
Oklahoma City
1,172,339
1
.00
RI
Providence
1,612,989
Providence-New Bedford-Fall River
1,612,989
1
.00
SC
Columbia
703,771
Columbia
703,771
1
.00
TN
Nashville
1,455,097
Nashville-Davidson--Murfreesboro
1,455,097
1
.00
UT
Salt Lake City
1,067,722
Salt Lake City
1,067,722
1
.00
WV
Charleston
305,526
Charleston
305,526
1
.00
WY
Cheyenne
85,384
Cheyenne
85,384
1
.00
Nineteen of fifty state capitals are their state's largest cities.

Vermont is an interesting outlier here. It makes fourth place not because it has a large city, but because its capital, Montpelier, is so very small. I tried doing some scatter plots, to see if anything else jumped out, but they weren't very illuminating. If anything, the data is suprisingly evenly distributed. Here's an example: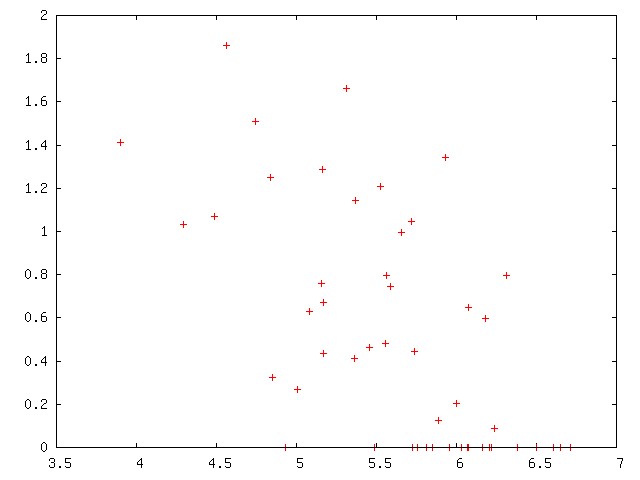 The x-axis is the population of the state capital; the y-axis is the quotient. (Both axes are log scale.) Vermont is the leftmost point, near the top. The large collection of points on the x-axis are of course the nineteen states for which the capital and largest city coincide.

[ Addendum 20080129: Some remarks about the format of the Census Bureau's data file. ]

[ Addendum 20090217: A comparison of the relative sizes of each state's largest and second-largest cities. ]




[Other articles in category /misc] permanent link