This morning Katara asked me why we call these vegetables "zucchini" and "eggplant" but the British call them "courgette" and "aubergine".
I have only partial answers, and the more I look, the more complicated they get.
Zucchini
The zucchini is a kind of squash, which means that in Europe it is a post-Columbian import from the Americas.
"Squash" itself is from Narragansett, and is not related to the verb "to squash". So I speculate that what happened here was:
American colonists had some name for the zucchini, perhaps derived from an Narragansett or another Algonquian language, or perhaps just "green squash" or "little gourd" or something like that. A squash is not exactly a gourd, but it's not exactly not a gourd either, and the Europeans seem to have accepted it as a gourd (see below).

When the vegetable arrived in France, the French named it courgette, which means "little gourd". (Courge = "gourd".) Then the Brits borrowed "courgette" from the French.

Sometime much later, the Americans changed the name to "zucchini", which also means "little gourd", this time in Italian. (Zucca = "gourd".)
The Big Dictionary has citations for "zucchini" only back to 1929, and "courgette" to 1931. What was this vegetable called before that? Why did the Americans start calling it "zucchini" instead of whatever they called it before, and why "zucchini" and not "courgette"? If it was brought in by Italian immigrants, one might expect to the word to have appeared earlier; the mass immigration of Italians into the U.S. was over by 1920.
Following up on this thought, I found a mention of it in Cuniberti, J. Lovejoy., Herndon, J. B. (1918). Practical Italian recipes for American kitchens, p. 18: "Zucchini are a kind of small squash for sale in groceries and markets of the Italian neighborhoods of our large cities." Note that Cuniberti explains what a zucchini is, rather than saying something like "the zucchini is sometimes known as a green summer squash" or whatever, which suggests that she thinks it will not already be familiar to the readers. It looks as though the story is: Colonial Europeans in North America stopped eating the zucchini at some point, and forgot about it, until it was re-introduced in the early 20th century by Italian immigrants.
When did the French start calling it courgette? When did the Italians start calling it zucchini? Is the Italian term a calque of the French, or vice versa? Or neither? And since courge (and gourd) are evidently descended from Latin cucurbita, where did the Italians get zucca?
So many mysteries.
Eggplant
Here I was able to get better answers. Unlike squash, the eggplant is native to Eurasia and has been cultivated in western Asia for thousands of years.
The puzzling name "eggplant" is because the fruit, in some varieties, is round, white, and egg-sized.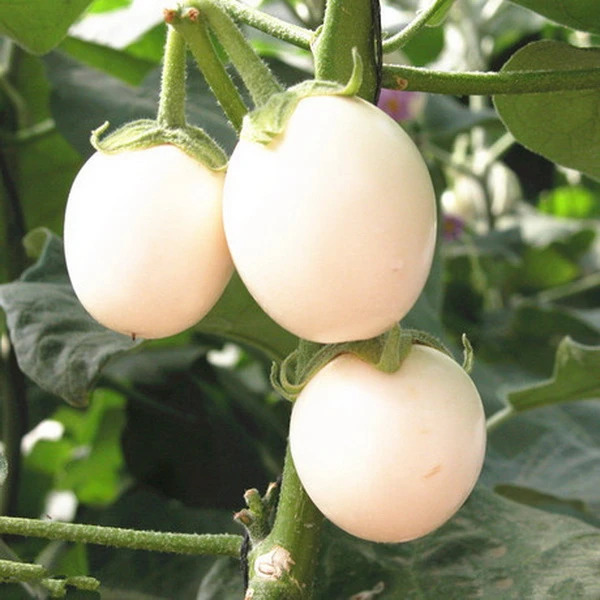 The term "eggplant" was then adopted for other varieties of the same plant where the fruit is entirely un-egglike.
"Eggplant" in English goes back only to 1767. What was it called before that? Here the OED was more help. It gives this quotation, from 1785:
When this [sc. its fruit] is white, it has the name of Egg-Plant.
I inferred that the preceding text described it under a better-known name, so, thanks to the Wonders of the Internet, I looked up the original source:
Melongena or Mad Apple is also of this genus [solanum]; it is cultivated as a curiosity for the largeness and shape of its fruit; and when this is white, it has the name of Egg Plant; and indeed it then perfectly resembles a hen's egg in size, shape, and colour.
(Jean-Jacques Rosseau, Letters on the Elements of Botany, tr. Thos. Martyn 1785. Page 202. (Wikipedia))
The most common term I've found that was used before "egg-plant" itself is "mad apple". The OED has cites from the late 1500s that also refer to it as a "rage apple", which is a calque of French pomme de rage. I don't know how long it was called that in French. I also found "Malum Insanam" in the 1736 Lexicon technicum of John Harris, entry "Bacciferous Plants".
Melongena was used as a scientific genus name around 1700 and later adopted by Linnaeus in 1753. I can't find any sign that it was used in English colloquial, non-scientific writing. Its etymology is a whirlwind trip across the globe. Here's what the OED says about it:
The neo-Latin scientific term is from medieval Latin melongena

Latin melongena is from medieval Greek μελιντζάνα (/melintzána/), a variant of Byzantine Greek ματιζάνιον (/matizánion/) probably inspired by the common Greek prefix μελανο- (/melano-/) "dark-colored". (Akin to "melanin" for example.)

Greek ματιζάνιον is from Arabic bāḏinjān (بَاذِنْجَان). (The -ιον suffix is a diminutive.)

Arabic bāḏinjān is from Persian bādingān (بادنگان)

Persian bādingān is from Sanskrit and Pali vātiṅgaṇa (भण्टाकी)

Sanskrit vātiṅgaṇa is from Dravidian (for example, Malayalam is vaḻutana (വഴുതന); the OED says "compare… Tamil vaṟutuṇai", which I could not verify.)
Wowzers.
Okay, now how do we get to "aubergine"? The list above includes Arabic bāḏinjān, and this, like many Arabic words was borrowed into Spanish, as berengena or alberingena. (The "al-" prefix is Arabic for "the" and is attached to many such borrowings, for example "alcohol" and "alcove".)
From alberingena it's a short step to French aubergine. The OED entry for aubergine doesn't mention this. It claims that aubergine is from "Spanish alberchigo, alverchiga, 'an apricocke'". I think it's clear that the OED blew it here, and I think this must be the first time I've ever been confident enough to say that. Even the OED itself supports me on this: the note at the entry for brinjal says: "cognate with the Spanish alberengena is the French aubergine". Okay then. (Brinjal, of course, is a contraction of berengena, via Portuguese bringella.)
Sanskrit vātiṅgaṇa is also the ultimate source of modern Hindi baingan, as in baingan bharta.
(Wasn't there a classical Latin word for eggplant? If so, what was it? Didn't the Romans eat eggplant? How do you conquer the world without any eggplants?)
[ Addendum: My search for antedatings of "zucchini" turned up some surprises. For example, I found what seemed to be many mentions in an 1896 history of Sicily. These turned out not to be about zucchini at all, but rather the computer's pathetic attempts at recognizing the word Σικελίαν. ]
[ Addendum 20200831: Another surprise: Google Books and Hathi Trust report that "zucchini" appears in the 1905 Collier Modern Eclectic Dictionary of the English Langauge, but it's an incredible OCR failure for the word "acclamation". ]
[ Addendum 20200911: A reader, Lydia, sent me a beautiful map showing the evolution of the many words for 'eggplant'. Check it out. ]
[Other articles in category /lang/etym] permanent link