Hieroglyphic monkeys holding stuff

I recently had occasion to mention this Unicode codepoint with the undistinguished name EGYPTIAN HIEROGLYPHIC SIGN E058A: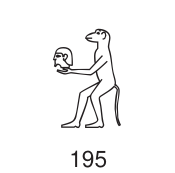 In a slightly more interesting world it would have been called STANDING MONKEY HOLDING SEVERED HEAD.
Unicode includes a group of eight similar hieroglyphic signs of monkeys holding stuff. Screenshots are from Unicode proposal N1944, Encoding Egyptian Hieroglyphs in Plane 1 of the UCS. The monkeys are on page 27. The names are my own proposals.
SEATED MONKEY HOLDING SEVERED HEAD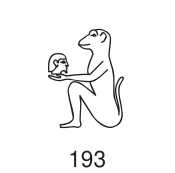 That monkey looks altogether too pleased with itself for my liking.
SEATED MONKEY WEARING DESHRET CROWN AND HOLDING TRIANGLE THINGY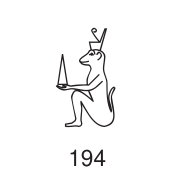 I have no idea what the triangle thingy is supposed to be. A thorn? A bread cone maybe? The object on the monkey's head is the crown of northern Egypt.
STANDING MONKEY HOLDING RIGHT EYE OF RA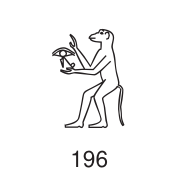 What if you want to type the character for a standing monkey holding the left eye of Ra? I suppose you have to compose several codepoints?
STANDING MONKEY HOLDING BALL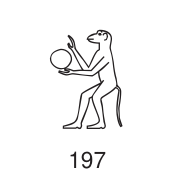 Is it a ball? An orb? A bowl? A dolerite pounder?
STANDING MONKEY HOLDING FLOWER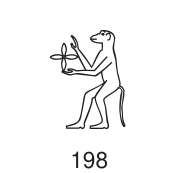 I have no idea what the flower thingy is supposed to represent. Budge's dictionary classifies it with the "trees, plants, flowers, etc." but assigns it only a phonetic value. (Budge, E. Wallis; An Egyptian Hieroglyphic Dictionary (London 1920), v.1, p. cxxiii)
STANDING MONKEY HOLDING HEDJET CROWN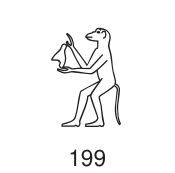 The monkey is holding, but not wearing, the crown of southern Egypt.
STANDING MONKEY WITH LETTER S HOLDING BABY CHICK AND DJED
This last one is amazing.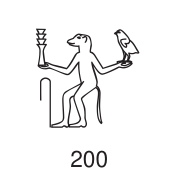 I think the hook by the monkey's foot is a sign with no meaning other than the 's' sound.
The object in the monkey's left hand is quite common in hieroglyphic writing but I do not know what it is. Budge (p.cxxxiii) says it is a "sacred object worshipped in the Delta" and that it is pronounced "tcheṭ" or "ṭeṭ", but I have not been able to find what it is called at present. Hmmm…
Aha! It is called djed:
It is a pillar-like symbol in Egyptian hieroglyphs representing stability. It is associated with the creator god Ptah and Osiris, the Egyptian god of the afterlife, the underworld, and the dead. It is commonly understood to represent his spine.
Thanks to Wikipedia's list of hieroglyphs.
---
Addendum: This morning I feel a little foolish because I found tcheṭ in the "list of hieroglyphic characters" section of Budge's dictionary, but when I didn't know what it was, it didn't occur to me to actually look it up in the dictionary.

[Other articles in category /lang] permanent link