Caricatures of Nazis and the number four in Russian

[ Warning: this article is kinda all over the place. ]
I was looking at this awesome poster of D. Moor (Д. Моор), one of Russia's most famous political poster artists: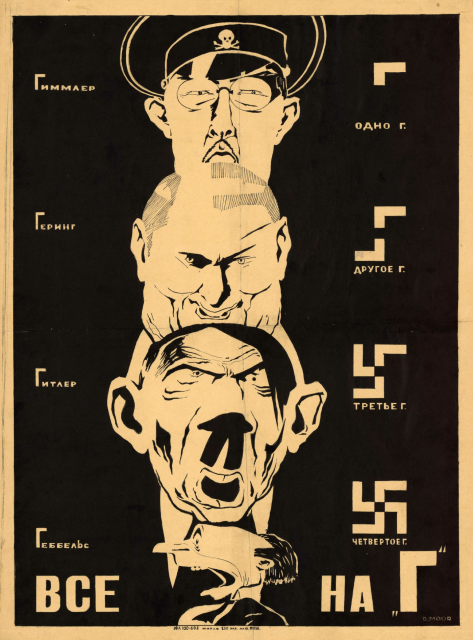 (original source at Artchive.RU)
This is interesting for a couple of reasons. First, in Russian, "Himmler", "Göring", "Hitler", and "Goebbels" all begin with the same letter, 'Г', which is homologous to 'G'. (Similarly, Harry Potter in Russian is Га́рри, 'Garri'.)
I also love the pictures, and especially Goebbels. These four men were so ugly, each in his own distinctively loathsome way. The artist has done such a marvelous job of depicting them, highlighting their various hideousness. It's exaggerated, and yet not unfair, these are really good likenesses! It's as if D. Moor had drawn a map of all the ways in which these men were ugly.
My all-time favorite depiction of Goebbels is this one, by Boris Yefimov (Бори́с Ефи́мов):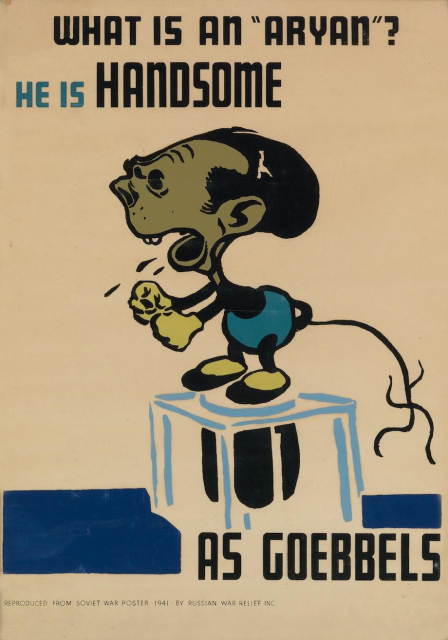 For comparison, here's the actual Goebbels: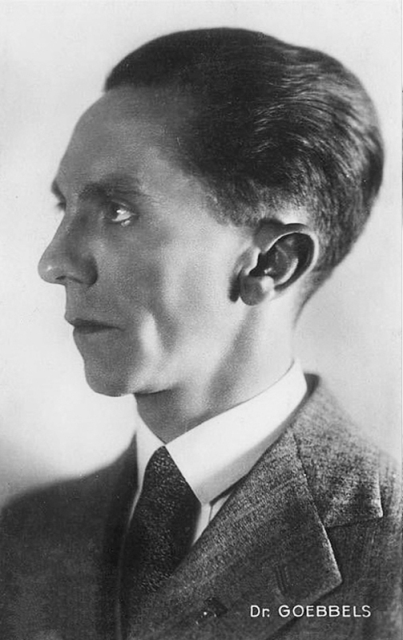 Looking at pictures of Goebbels, I had often thought "That is one ugly guy," but never been able to put my finger on what specifically was wrong with his face. But since seeing the Yefimov picture, I have never been able to look at a picture of Goebbels without thinking of a rat. D. Moor has also drawn Goebbels as a tiny rat, scurrying around the baseboards of his poster.
Anyway, that was not what I had planned to write about. The right-hand side of D. Moor's poster imagines the initial 'Г' of the four Nazis' names as the four bent arms of the swastika. The captions underneath mean "first Г", "second Г" and so on.
[ Addendum: Darrin Edwards explains the meaning here that had escaped me:
One of the Russian words for shit is "govno" (говно). A euphemism for this is to just use the initial g; so "something na g" is roughly equivalent to saying "a crappy something". So the title "vse na g" (all on g) is literally "they all start with g" but pretty blatantly means "they're all crap" or "what a bunch of crap". I believe the trick of constructing the swastika out of four g's is meant to extend this association from the four men to the entire movement…
Thank you, M. Edwards! ]
Looking at the fourth one, четвертое /chetvyertoye/, I had a sudden brainwave. "Aha," I thought, "I bet this is akin to Greek "tetra", and the /t/ turned into /ch/ in Russian."
Well, now that I'm writing it down it doesn't seem that exciting. I now remember that all the other Russian number words are clearly derived from PIE just as Greek, Latin, and German are:
| English | German | Latin | Greek | Russian |
| --- | --- | --- | --- | --- |
| one | ein | unum | εἷς (eis) | оди́н (odeen) |
| two | zwei | duo | δύο (dyo) | два (dva) |
| three | drei | trēs | τρεῖς (treis) | три (tri) |
| four | vier | quattuor | τέτταρες (tettares) | четы́ре (chyetirye) |
| five | fünf | quinque | πέντε (pente) | пять (pyat') |
In Latin that /t/ turned into a /k/ and we get /quadra/ instead of /tetra/. The Russian Ч /ch/ is more like a /t/ than it is like a /k/.
The change from /t/ to /f/ in English and /v/ in German is a bit weird. (The Big Dictionary says it "presents anomalies of which the explanation is still disputed".) The change from the /p/ of 'pente' to the /f/ of 'five' is much more typical. (Consider Latin 'pater', 'piscum', 'ped' and the corresponding English 'father', 'fish', 'foot'.) This is called Grimm's Law, yeah, after that Grimm.
The change from /q/ in quinque to /p/ in pente is also not unusual. (The ancestral form in PIE is believed to have been more like the /q/.) There's a classification of Celtic lanugages into P-Celtic and Q-Celtic that's similar, exemplified by the change from the Irish patronymic prefix Mac- into the Welsh patronymic map or ap.
I could probably write a whole article comparing the numbers from one to ten in these languages. (And Sanskrit. Wouldn't want to leave out Sanskrit.) The line for 'two' would be a great place to begin because all those words are basically the same, with only minor and typical variations in the spelling and pronunciation. Maybe someday.
[Other articles in category /lang/etym] permanent link