I fail to eat pickled dragonflies

Last month we went to Korea to visit Toph and Katara's maternal grandparents. We stayed in a hotel with a fancy buffet breakfast. After the first breakfast Katara asked if I had seen the pickled dragonflies. I had not — there was too much to see! But I looked for them the next day.
They looked like this: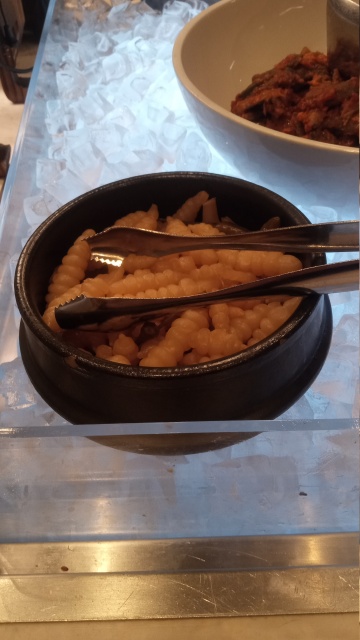 The label did indeed identify his (in English) as "Pickled Dragonfly":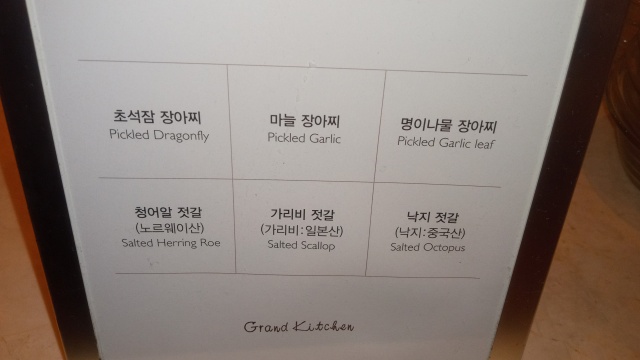 (It wasn't too unlikely, because Koreans do sometimes eat insects. You used to be able to buy toasted silkworm pupae on the street as a snack, although I didn't see any on this trip. And I have seen centipedes on sale for medicinal purposes, I think perhaps candy-coated.)
I tried one, but after one bite I described it as "vegetal". The more I thought about it (and the more of them I ate) the more sure I was that it was a mislabeled vegetable of some sort. I would expect an insect to have a hard shell and a softer inside. This, whatever it was, was crunchy but completely uniform, with a texture quite like a jicama or raw potato.
Fortunately there was a Korean label on it that was more accurate than the English label: "초석잠 장아찌" (/choseokjam jangajji/).
장아찌 means pickled vegetables but it took quite a while to track down what vegetable it was because it is not much eaten in the West.
초석잠 (/choseokjam/) is the correct Korean name. It is the tuber of Stachys affinis, sometimes called Chinese artichoke or artichoke betony. I had not heard of betony before but there is apparently a whole family of edible betony plants.
I liked them and ate them with breakfast most days. Here's what they look like before they have been pickled: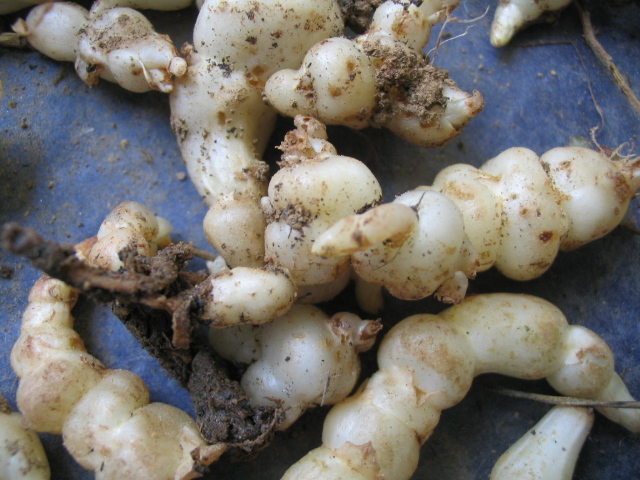 Stachys affinis photograph CC BY-SA 3.0, via Wikimedia Commons.
[Other articles in category /food] permanent link