Geeking out over arbitrary boundaries

Reddit today had this delightful map, drawn by Peter Klumpenhower, of "the largest city in each 10-by-10 degree area of latitude-longitude in the world":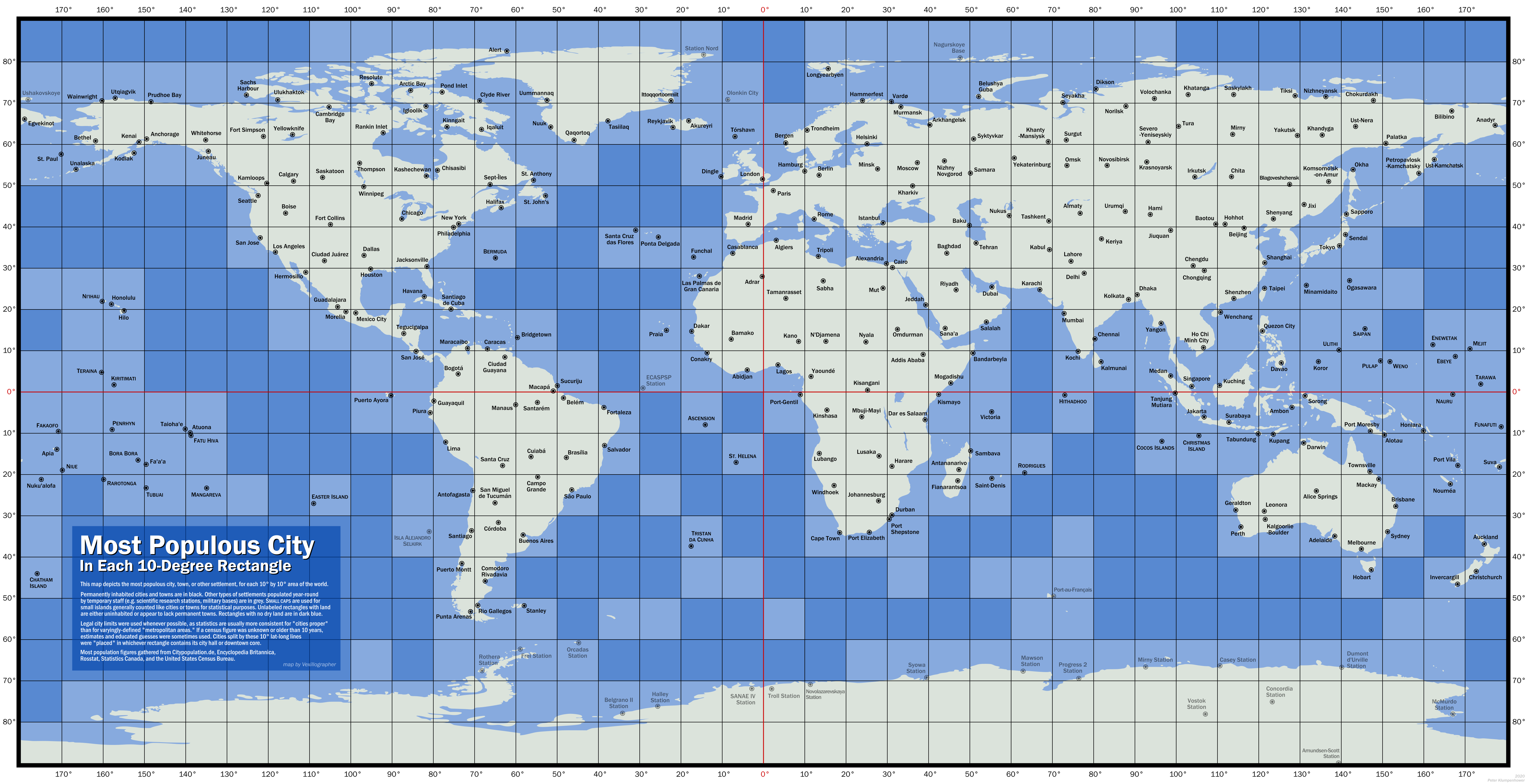 (Click to enlarge.)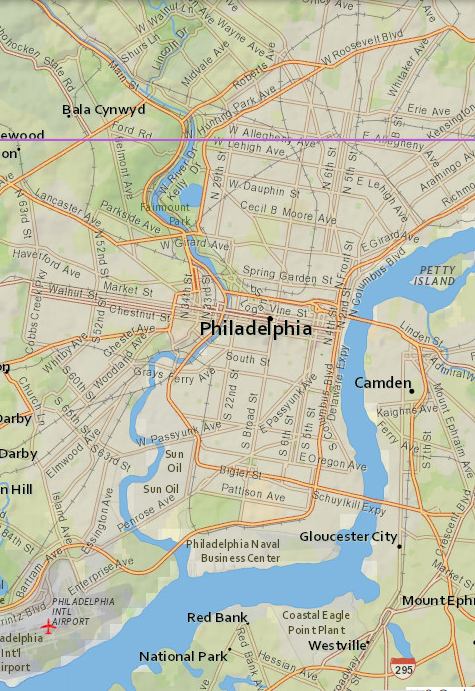 Almost every square is a kind of puzzle! Perhaps it is surprising that Philadelphia is there? Clearly New York dominates its square, but Philadelphia is just barely across the border in the next square south: the 40th parallel runs right through North Philadelphia. (See map at right.) Philadelphia City Hall (the black dot on the map) is at 39.9524 north latitude.
This reminds me of the time I was visiting Tom Christiansen in Boulder, Colorado. We were driving on Baseline Road and he remarked that it was so named because it runs exactly along the 40th parallel. Then he said "that's rather farther south than where you live". And I said no, the 40th parallel also runs through Philadelphia! Other noteworthy cities at this latitude include Madrid, Ankara, Yerevan, and Beijing.
Anyway speaking of Boulder, the appearance of Fort Collins was the first puzzle I noticed. If you look at the U.S. cities that appear on the map, you see most of the Usual Suspects: New York, Philadelphia, Chicago, Los Angeles, Seattle, Dallas, Houston. And then you have Fort Collins.

"Fort Collins?" I said. "Why not Denver? Or even Boulder?"
Boulder, it turns out, is smaller than Fort Collins. (I did not know this.) And Denver, being on the other side of Baseline Road, doesn't compete with Fort Collins. Everything south of Baseline Road, including Denver, is shut out by Ciudad Juárez, México (population 1.5 million).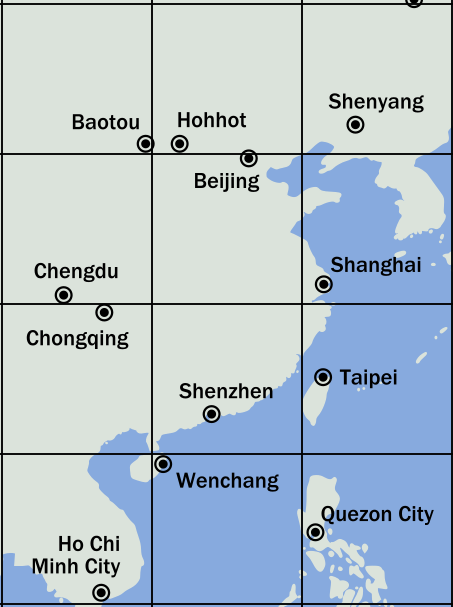 There is a Chinese version of this. The Chinese cities on the map include the big Chinese cities: Shanghai, Beijing, Chongqing, Shenzhen, Chengdu. Shenyang. A couple of cities in Inner Mongolia, analogous to the appearance of Boise on the U.S. map. And…
Wenchang. What the heck is Wenchang?
It's the county seat of Wenchang County, in Hainan, not even as important as Fort Collins. China has 352 cities with populations over 125,000. Wenchang isn't one of them. According to the list I found, Wenchang is the 379th-largest city in China. (Fort Collins, by the way, is 159th-largest in the United States. For the 379th, think of Sugar Land, Texas or Cicero, Illinois.)
Since we're in China, please notice how close Beijing is to the 40th parallel. Ten kilometers farther north and it would have displaced Boise — sorry, I meant Hohhot — and ceded its box to Tianjin (pop. 15.6 million). Similarly (but in reverse), had Philadelphia been a bit farther north, it would have disappeared into New York's box, and yielded its own box to Baltimore or Washington or some other hamlet.

Opposite to the "what the heck is?" puzzles are there "what the heck happened to?" puzzles. Some are easier than others. It's obvious what happened to Seoul: it's in the same box as Shanghai. The largest missing U.S. city is Phoenix, which you can probably guess is in the same box as Los Angeles.
But what the heck happened to Nairobi? (Nairobi is the ninth-largest city in Africa. Dar Es Salaam is the sixth-largest and is in the same box.)
What the heck happened to St. Petersburg? (at 59.938N, 30.309E, it is just barely inside the same box as Moscow. The map is quite distorted in this region.)
What the heck happened to Tashkent? (It's right where it should be. I just missed it somehow.)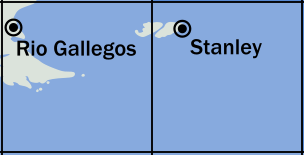 There are some boxes where there just isn't much space for cities. Some of these are obvious: most of Micronesia; notoriously isolated places like Easter Island, Tristan Da Cunha, and St. Helena; other islands like Ni'ihau, Saipan, and Bermuda. But some are less obvious. We saw Wenchang already. Most of West Falkland Island is in the same box as Río Gallegos, Argentina (pop. 98,000). But the capital, Stanley, (pop. 2,460) is on the East Island, in the next box over.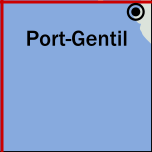 Okay, enough islands. Some of those little towns, alone in their boxes, are on the mainland and (unlike, say, Ittoqqortoormiit) in places where people actually live. But they just happened to get lucky and be the only town in their box. Gabon isn't a big part of Africa. Port-Gentil (pop. 136,462) isn't the largest city in Gabon. But it's on the mainland of Africa and it's the largest city in its box.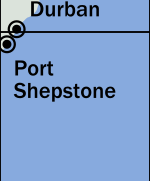 I think my favorite oddity so far is that Maputo (population 2.7 million) would have won in its box, if Durban (population 3.7 million) were 13 kilometers farther south. But Durban is at 29.9°S, and that means that the largest settlement in Africa east of 30°E that is also south of 30°S is Port Shepstone (pop. 35,633).
M. Klumpenhower, creator of the original map, has a vexillology- and geography-themed YouTube channel.
[ Addendum: Reddit discussion has pointed out that Clifden (pop. 1,597) , in western Ireland, is not the largest settlement in its box. There are two slivers of Ireland in that box, and Dingle, four hours away in County Kerry, has a population of 2,050. The Reddit discussion has a few other corrections. The most important is probably that Caracas should beat out Santo Domingo. M. Klumpenhower says that they will send me a revised version of the map. ]
[ Thanks to Hacker News user oefrha for pointing out that Hohhot and Baotou are in China, not Mongolia as I originally said. ]
[ Addendum 20200627: M. Klumpenhower has sent me a revised map, which now appears in place of the old one. It corrects the errors mentioned above. Here's a graphic that shows the differences. But Walt Mankowski pointed out another possible error: The box with Kochi (southern India) should probably be owned by Colombo. ]
[Other articles in category /geo] permanent link