Second-largest cities
A while back I was in the local coffee shop and mentioned that my wife had been born in Rochester, New York. "Ah," said the server. "The third-largest city in New York." Really? I would not have guessed that. (She was right, by the way.) As a native of the first-largest city in New York, the one they named the state after, I have spent very little time thinking about the lesser cities of New York. I have, of course, heard that there are some. But I have hardly any idea what they are called, or where they are.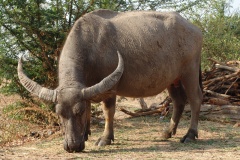 It appears that the second-largest city in New York state is some place called (get this) "Buffalo". Okay, whatever. But that got me wondering if New York was the state with the greatest disparity between its largest and second-largest city. Since I had the census data lying around from a related project (and a good thing too, since the Census Bureau website moved the file) I decided to find out.
The answer is no. New York state has only one major city, since its next-largest settlement is Buffalo, with 1.1 million people. (Estimated, as of 2006.) But the second-largest city in Illinois is Peoria, which is actually the punchline of jokes. (Not merely because of its small size; compare Dubuque, Iowa, a joke, with Davenport, Iowa, not a joke.) The population of Peoria is around 370,000, less than one twenty-fifth that of Chicago.
But if you want to count weird exceptions, Rhode Island has everyone else beat. You cannot compare the sizes of the largest and second-largest cities in Rhode Island at all. Rhode Island is so small that it has only one city, Seriously. No, stop laughing! Rhode Island is no laughing matter.
The Articles of Confederation required unanimous consent to amend, and Rhode Island kept screwing everyone else up, by withholding consent, so the rest of the states had to junk the Articles in favor of the current United States Constitution. Rhode Island refused to ratify the new Constitution, insisting to the very end that the other states had no right to secede from the Confederation, until well after all of the other twelve had done it, and they finally realized that the future of their teeny one-state Confederation as an enclave of the United States of America was rather iffy. Even then, their vote to join the United States went 34–32.
But I digress.
Actually, for many years I have said that you can impress a Rhode Islander by asking where they live, and then—regardless of what they say—remarking "Oh, that's near Providence, isn't it?" They are always pleased. "Yes, that's right!" The census data proves that this is guaranteed to work. (Unless they live in Providence, of course.)
Here's a joke for mathematicians. Q: What is Rhode Island? A: The topological closure of Providence.
Okay, I am finally done ragging on Rhode Island.
Here is the complete data, ordered by size disparity. I wasn't sure whether to put Rhode Island at the top or the bottom, so I listed it twice, just like in the Senate.
State
Largest city and
its Population
Second-largest city
and its population
Quotient
Rhode Island
Providence-New Bedford-Fall River
1,612,989
—
Illinois
Chicago-Naperville-Joliet
9,505,748
Peoria
370,194
25
.68
New York
New York-Northern New Jersey-Long Island
18,818,536
Buffalo-Niagara Falls
1,137,520
16
.54
Minnesota
Minneapolis-St. Paul-Bloomington
3,175,041
Duluth
274,244
11
.58
Maryland
Baltimore-Towson
2,658,405
Hagerstown-Martinsburg
257,619
10
.32
Georgia
Atlanta-Sandy Springs-Marietta
5,138,223
Augusta-Richmond County
523,249
9
.82
Washington
Seattle-Tacoma-Bellevue
3,263,497
Spokane
446,706
7
.31
Michigan
Detroit-Warren-Livonia
4,468,966
Grand Rapids-Wyoming
774,084
5
.77
Massachusetts
Boston-Cambridge-Quincy
4,455,217
Worcester
784,992
5
.68
Oregon
Portland-Vancouver-Beaverton
2,137,565
Salem
384,600
5
.56
Hawaii
Honolulu
909,863
Hilo
171,191
5
.31
Nevada
Las Vegas-Paradise
1,777,539
Reno-Sparks
400,560
4
.44
Idaho
Boise City-Nampa
567,640
Coeur d'Alene
131,507
4
.32
Arizona
Phoenix-Mesa-Scottsdale
4,039,182
Tucson
946,362
4
.27
New Mexico
Albuquerque
816,811
Las Cruces
193,888
4
.21
Alaska
Anchorage
359,180
Fairbanks
86,754
4
.14
Indiana
Indianapolis-Carmel
1,666,032
Fort Wayne
408,071
4
.08
Colorado
Denver-Aurora
2,408,750
Colorado Springs
599,127
4
.02
Maine
Portland-South Portland-Biddeford
513,667
Bangor
147,180
3
.49
Vermont
Burlington-South Burlington
206,007
Rutland
63,641
3
.24
California
Los Angeles-Long Beach-Santa Ana
12,950,129
San Francisco-Oakland-Fremont
4,180,027
3
.10
Nebraska
Omaha-Council Bluffs
822,549
Lincoln
283,970
2
.90
Kentucky
Louisville-Jefferson County
1,222,216
Lexington-Fayette
436,684
2
.80
Wisconsin
Milwaukee-Waukesha-West Allis
1,509,981
Madison
543,022
2
.78
Alabama
Birmingham-Hoover
1,100,019
Mobile
404,157
2
.72
Kansas
Wichita
592,126
Topeka
228,894
2
.59
Pennsylvania
Philadelphia-Camden-Wilmington
5,826,742
Pittsburgh
2,370,776
2
.46
New Hampshire
Manchester-Nashua
402,789
Lebanon
172,429
2
.34
Mississippi
Jackson
529,456
Gulfport-Biloxi
227,904
2
.32
Utah
Salt Lake City
1,067,722
Ogden-Clearfield
497,640
2
.15
Florida
Miami-Fort Lauderdale-Miami Beach
5,463,857
Tampa-St. Petersburg-Clearwater
2,697,731
2
.03
North Dakota
Fargo
187,001
Bismarck
101,138
1
.85
South Dakota
Sioux Falls
212,911
Rapid City
118,763
1
.79
North Carolina
Charlotte-Gastonia-Concord
1,583,016
Raleigh-Cary
994,551
1
.59
Arkansas
Little Rock-North Little Rock
652,834
Fayetteville-Springdale-Rogers
420,876
1
.55
Montana
Billings
148,116
Missoula
101,417
1
.46
Missouri
St. Louis
2,796,368
Kansas City
1,967,405
1
.42
Iowa
Des Moines-West Des Moines
534,230
Davenport-Moline-Rock Island
377,291
1
.42
Virginia
Virginia Beach-Norfolk-Newport News
1,649,457
Richmond
1,194,008
1
.38
New Jersey
Trenton-Ewing
367,605
Atlantic City
271,620
1
.35
Louisiana
New Orleans-Metairie-Kenner
1,024,678
Baton Rouge
766,514
1
.34
Connecticut
Hartford-West Hartford-East Hartford
1,188,841
Bridgeport-Stamford-Norwalk
900,440
1
.32
Oklahoma
Oklahoma City
1,172,339
Tulsa
897,752
1
.31
Delaware
Seaford
180,288
Dover
147,601
1
.22
Wyoming
Cheyenne
85,384
Casper
70,401
1
.21
South Carolina
Columbia
703,771
Charleston-North Charleston
603,178
1
.17
Tennessee
Nashville-Davidson--Murfreesboro
1,455,097
Memphis
1,274,704
1
.14
Texas
Dallas-Fort Worth-Arlington
6,003,967
Houston-Sugar Land-Baytown
5,539,949
1
.08
West Virginia
Charleston
305,526
Huntington-Ashland
285,475
1
.07
Ohio
Cleveland-Elyria-Mentor
2,114,155
Cincinnati-Middletown
2,104,218
1
.00
Rhode Island
Providence-New Bedford-Fall River
1,612,989
—
Some of this data is rather odd because of the way the census bureau aggregates cities. For example, the largest city in New Jersey is Newark. But Newark is counted as part of the New York City metropolitan area, so doesn't count separately. If it did, New Jersey's quotient would be 5.86 instead of 1.35. I should probably rerun the data without the aggregation. But you get oddities that way also.
I also made a scatter plot. The x-axis is the population of the largest city, and the y-axis is the population of the second-largest city. Both axes are log-scale: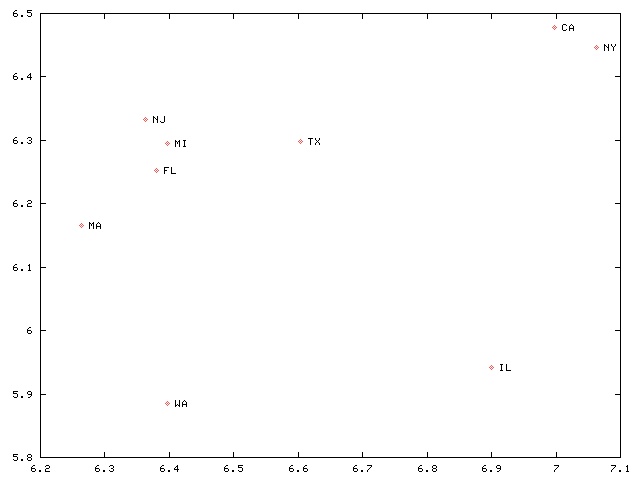 Nothing weird jumps out here. I probably should have plotted population against quotient. The data and programs are online if you would like to mess around with them.
---
I gratefully acknowledge the gift of Tim McKenzie. Thank you!




[Other articles in category /misc] permanent link